[ad_1]

In the early 2000s, Ghana football was at its finest. The likes of Hearts of Oak and Asante Kotoko were revered among clubs in the African continent. The national team was as a result one of the best in the continent.
21 years ago, Hearts of Oak held the CAF Champions League trophy, adding up to a historic treble. In recent years however, Ghanaians have witnessed a number of exits from CAF's top competitions with little signs of improvement.
It was 17 years ago when Hearts of Oak and Asante Kotoko clashed in the maiden edition of the CAF Confederation Cup final, CAF's second-best club competition.
Even on the international stage, Ghana has dropped from a top seeded side who reached the quarter finals of the 2010 FIFA World Cup to a team fighting for a chance to enter the world's biggest showcase once again.
Recently, FIFA released a 10-year international transfers report which included Ghana, a member in the association. Joy Sports Financial Journalist Bill Eshun takes a deeper look at the report and highlights why Ghana is in a decline.
Methodology
The report, which was released by FIFA, included data on international transfers of male professional players completed between 1st January, 2011 and 31st December,2020. The data was extracted from the Transfer Matching System on 6th May,2021.
All information on transfer fees is automatically converted into US dollars on the basis of conversion rates on the day when the transfer instruction is created in TMS.
Numbers in the report are rounded. All names of clubs and players in this report are as entered in TMS.
Impressive returns, little investment
In recent years, fans have this preconception that Ghanaian clubs are mainly focused on selling players with star potential or letting some of their best players leave for greener pastures.
Well, it is safe to say that those assumptions are completely true. Ghanaian clubs have earned $50.1 million in international sales over the period (1533 sales) whilst spending just $0.4 million (381 incomings). Hence, Ghanaian clubs have recorded a net profit of $49.6 million.
The net figure is ranked 30th among member associations from international transfers. It is without doubt a long way off Portugal's (1st) $2.96 billion figure. However, it is the highest number recorded by a CAF member during the period.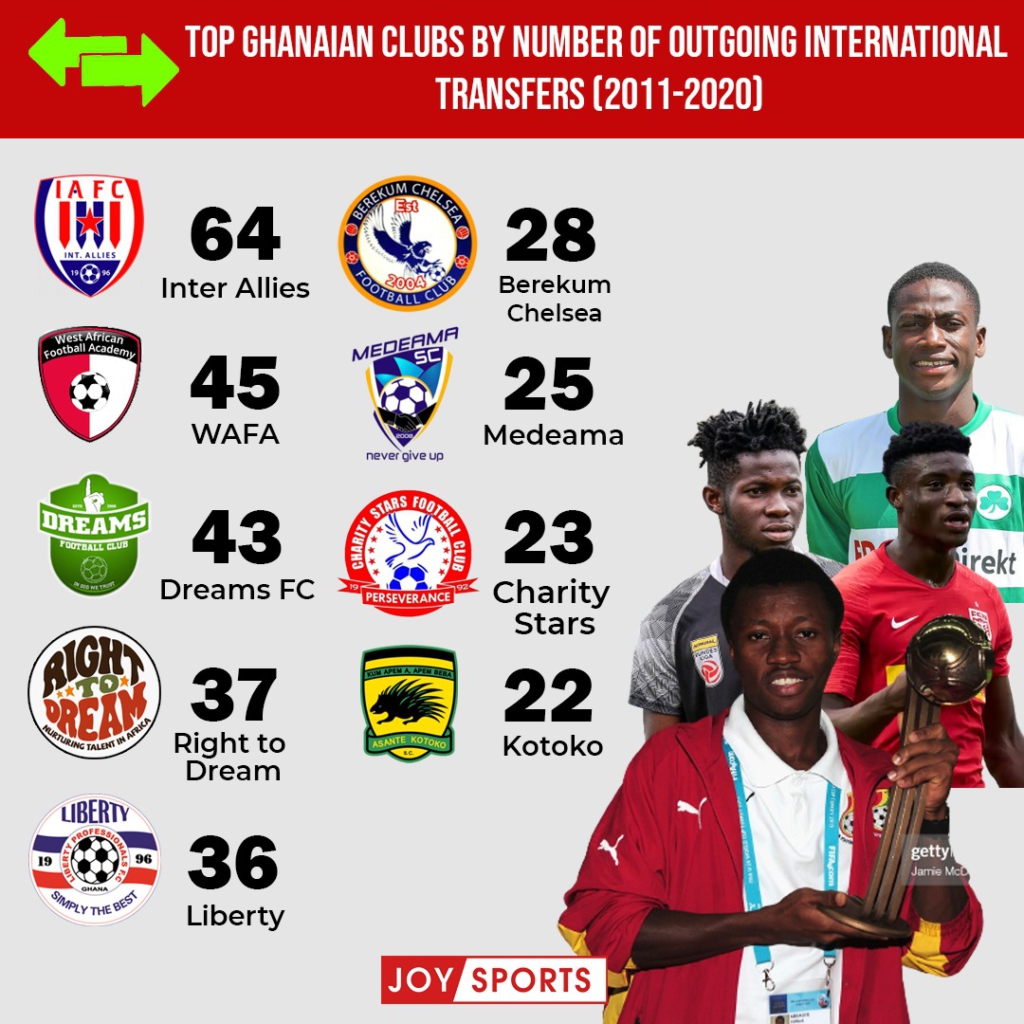 Inter Allies are key contributors to the profits, selling 64 players internationally, the highest figure recorded by a CAF club.
One would think that the Eleven Is To One boys would be a top African club by now, investing smartly and winning titles. Disappointingly, they were relegated last season after a number of poor performances. In fact, they have not played in any CAF Intercontinental club competition since its inception in October 1996.
The likes of WAFA, Dreams FC, Kotoko and Medeama have also recorded a good number of international exits during the period. Overall, nine Ghanaian clubs featured in the top 30 CAF clubs in number of outgoing international transfers. Also, no Ghanaian outfit was part of the top 20 CAF clubs in terms of international spending on incomings.
Kotoko, the biggest club among the nine selling clubs, have not participated in the CAF Champions League group stage since 2006 and have made the group stage of the CAF Confederation Cup once in the last 12 years.
On present day, most GPL clubs including Hearts of Oak and Asante Kotoko do not own stadiums or have excellent facilities. The quality of their current squads have also been questioned as compared to other African squads.
Where did the money go? Which decisions were made by clubs to improve over the years? Granted, further support is needed from other sources. However, locally-based clubs have seemingly not made a good account of themselves either.
The numbers of Ghana on a bigger scale
A grand total of 133,225 transfers were recorded over the 10-year period which includes 66,789 players, 8,264 clubs around the globe and $48.5 billion in spending.
2,848 transfers recorded during the period were Ghanaian (2.14%) which ranks 10th among the top 30 nationalities by number of transfers.
Also, $561.8m (1.12%) was spent on Ghanaian players internationally, ranking 19th among the top 30 nationalities in terms of total spending on transfers.
However, only Thomas Partey (64th) is ranked among the top 70 transfers by total transfer fee following his blockbuster move from Atletico Madrid to Arsenal in the 2020 summer transfer window.
This gives an indication that a lot of Ghanaians switch clubs from time to time but for low transfer fees. It also means that Ghanaian footballers have a low value which translates in most ways to low quality. A quick look at the top five leagues in Europe show an alarmingly small count of Black Stars players.
In Charles Kwablan Akonnor's most recent squad for the 2022 World Cup qualifiers, five players (out of 32 names) play in Europe's top five leagues. At the 2010 FIFA World Cup, 13 out of 23 Black Stars players were playing in Europe's top five leagues. It represents a significant drop-off over the years.
How things could change in the future
It all starts from the grassroots locally. Huge investments seemingly have to be made on better facilities and scouting of players. It could go a long way in finding gems and training them to more appreciable levels. This move will generate trust in local players when they are eventually called to represent the national team.
Ghanaian clubs have to splash the cash if necessary to be able to compete with the likes of Pyramids FC and Al Ahly who have been successful in the continental stage recently. The two Egyptian clubs have spent the most on transfer fees during the 10-year period.
The effort will take some time to bear fruits. However, it is not too late to start now.
[ad_2]

Source link