Entertainment of Sunday, 12 September 2021
Source: zionfelix.net
2021-09-12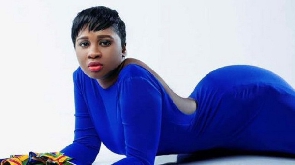 Actress Princess Shyngle
Ghanaian actress Princess Shyngle has been doing the most since the announcement of her divorce from her husband.
The actress announced that she got married to his long-time best friend in early January 2021.
A few months down the line, the pair separated amidst allegations of abuse on the part of the man according to Princess Shyngle.
Despite her divorce from the marriage that only lasted barely 4 months, the actress is still serving social media with a lot to keep going.
From showing her breast and raw botos to twerking half-naked, the actress has kept her Instagram followers busy, showing that she is still living well despite her marital setbacks.
Her new serving to his fans is a video of her walking in town dressed half naked.
The video was captioned: "I'm in love with her waist snatched by @snatchedbyprincess.