Entertainment of Saturday, 11 September 2021
Source: mynewsgh.com
2021-09-11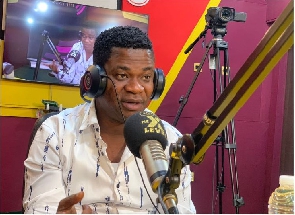 Ghanaian gospel musician, Great Ampong
It appears that the long-held beef between popular gospel musician, Great Ampong, and High-life legend, Daddy Lumba has seemingly come to an end as the former describes Lumba as an iconic figure.
Great Ampong in an exclusive interview with Hammer Nti of Kumasi-based Pure FM explained that, despite their rugged relationship, he finds Lumba to be incomparable to any Ghanaian artist.
Ampong noted further that, he has stopped talking about a debt Lumba owed him on the advice of his mother.
"I have no issue with Lumba now although I've not heard from him since 2013. I have resolved not to ever mention our issue again because my mother has asked me not to and I have taken the advice wholesomely."
"Putting everything aside, I think Lumba is incomparable to any Ghanaian musician, his songs have changed societies."
"He is a very great and nice person and he's one of the few people who have given me life-changing advice that has helped my music career and family life."
"His only issue is his human relations which I think he should work on," Ampong told Hammer Nti of 'Hammer Time' fame.