Kumawood actor Kwadwo Nkansah, popularly known as Lil Win, has assured Benson Nana Yaw Oduro Boateng, aka Funny Face, that he no longer holds a grudge against him.
This comes after the actor sat through the comedian's court proceedings on Wednesday, October 20, 2021. Lil Win was pictured holding hands with a handcuffed Funny Face outside the court building.
In one photo the two smiled at each other while holding hands and in another, Funny Face seemed teary while he was being escorted.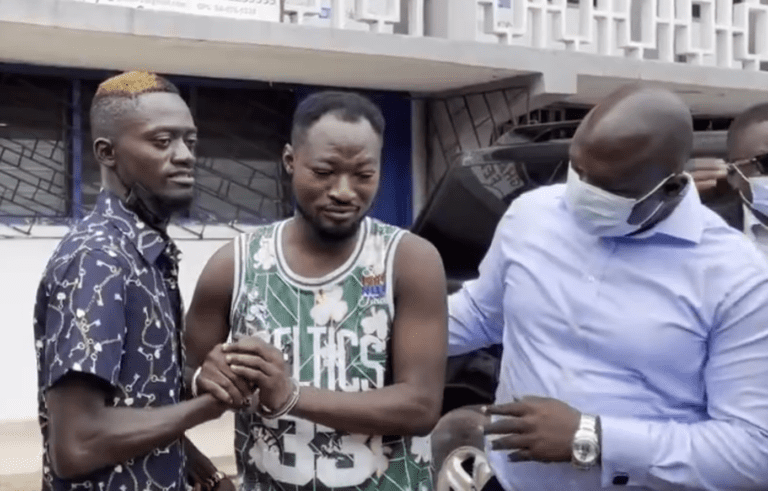 Lil Win in an interview with Kofi TV said he felt sorry for Funny Face after the judge referred the 'Cow and Chicken' actor to the Accra Psychiatric Hospital for re-examination.
The 'Cocoa Season' actor stated that he has forgiven Funny Face for peddling lies about him on many occasions on social media.
"I don't need his apology. I don't know what is wrong with him but we are all family. We don't have to be enemies. A lot of people don't understand love. When you are with someone for many years, you don't stop talking to the person due to one little issue that has happened between you," he stated.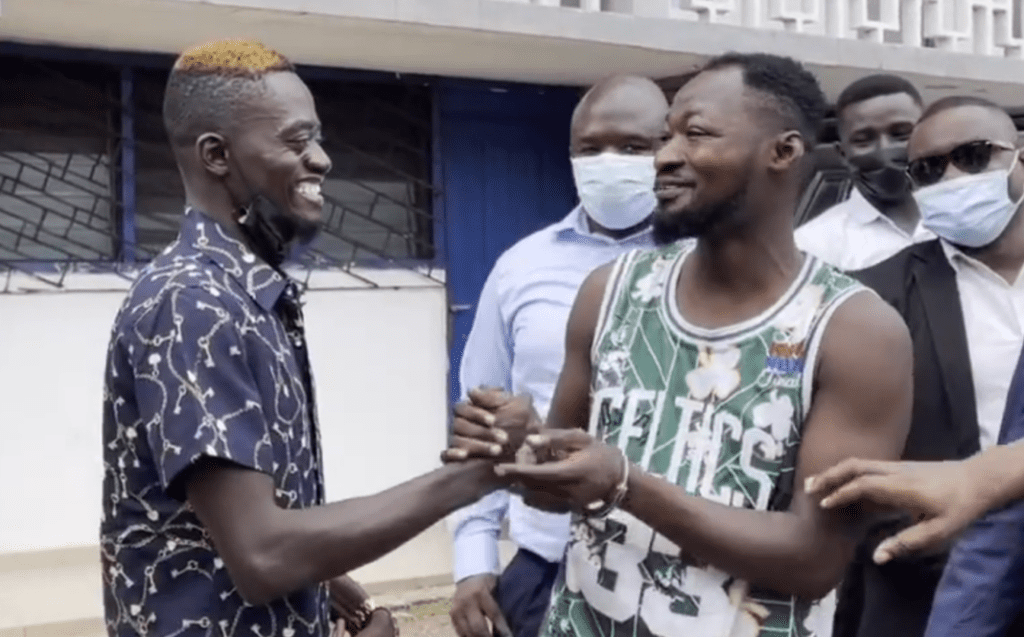 Lil Win added that he understands Funny Face has been going through some hardships while battling depression thus he would prefer to help the actor.
"Remember all the good things and avoid the one pain the person caused you. I don't have any issues with him. It is sad for such to happen. God should help him and take him out of whatever is hurting him. There is no need to laugh at him," he added.
The friendship between the two actors fell apart in 2020 after Funny Face, in April that year, accused the Kumawood actor, Kalybos and Bismark the Joke of badmouthing him.
He claimed that Lil Win caused the break up with his wife who later bolted with their twin children.
Funny Face and Kwadwo Nkansah 'Lil Win', took their beef to another height when they almost traded 'blows' on the set of UTV's 'United Showbiz'.
The two nearly came to blows during the interview. It took some efforts from Bulldog, Counsellor Adumata, and host Nana Ama McBrown to separate them and defuse what could have been an embarrassing situation.
The two seemed to have mended their relationship after the heated discussion on TV.
Taking to Instagram Funny Face apologised to Ghanaians for "overreacting" during his encounter with Lil Win.