The year 2021 has been characterised by many ups and downs. The showbiz world has seen deaths, surprising news, arrests and many others.
Here is a breakdown of some of the biggest entertainment news that made headlines in 2021.
Patapaa gets married
The year 2021, for entertainment, started with a celebratory event. Musician Patapaa married his then-girlfriend Liha Miller in a simple ceremony at Agona Swedru.
The event took place on January 2, 2021 – the traditional event took place in Patapaa's home, while the white wedding later took place at Cedi Lounge and Kitchen, all on the same day.
Kennedy Agyapong also marries
The Member of Parliament for Assin Central, Kennedy Agyapong, also reportedly tied the knot at a private ceremony held in Accra.
According to the details given in a Facebook post, the business mogul's new bride is called Christiana. Maame Duodua Appiahkorang, in her post, revealed that the private wedding took place on Friday, January 1, 2021.
Becca loses mum
On January 8, 2021, musician Becca announced the death of her biological mother, Julie Yiadom-Oti. According to reports, she died in London after a short illness. Reacting to her mother's death, she stated that the shock and pain were unbearable.
Patapaa and his wife involved in an accident
Musician Patapaa and his wife Liha Miller were involved in an accident on Friday, January 8, 2021. In a series of Instagram posts, Mrs Amoah shared a video and photos of their damaged vehicle.
Bulldog arrested
He was allegedly arrested over threats he made on live TV against President Akufo-Addo. Bulldog had said on UTV's United Showbiz that the President will not complete his second term if he does not pay the locked-up funds of Menzgold customers.
He had later retracted his statement. Bulldog was released after three days.
YouTube deletes Wendy Shay's video 
On January 12, Wendy Shay announced YouTube had taken down one of her music videos for copyright infringements.
The music video 'Pray for the World' got unpublished after YouTube reportedly said it had the same chord progression as the hit South African song Jerusalema. However, the channel later restored it after she was exonerated.
Thirsty Instagram women send nudes to a kid
Nigerian singer Wizkid's baby mama had sent out a stern warning to older women for sending nude photos to her son on Instagram.
Shola Ogudu finds it crazy and unthinkable that grown women send her nine-year-old son, Zion Balogun, inappropriate pictures and messages.
Kwadee's brief comeback
After months in their care, hiplife artiste Okomfour Kwadee was released from the rehabilitation centre. The singer made waves after the video of him, and a lady went viral. The singer was seen driving through town with a woman, presumably his girlfriend.
Cecilia Marfo and Joyce Blessing – nowhere cool
Cecilia Marfo, at a thanksgiving service, interrupted a ministration by Joyce Blessing, seized her microphone and then ordered the band to keep quiet.
The evangelist proceeded to tell the 'Adam Nana' hitmaker to forget about her divorce and return to her husband. But, according to the self-acclaimed prophetess, Joyce Blessing's decision to leave her husband does not please God.
This did not bode well with many Ghanaians and gospel singers.
Vigil for late former President Jerry John Rawlings leaves many entertainers in tears
The state held a vigil in honour of the late former President Rawlings. The vigil aw many Ghanaians tear up; however, the performers left a lasting impression on people.
Adina stirred up emotions during a passionate performance of Bryan Adams' '(Everything I Do) I Do It For You'. This brought tears to the eyes of the late President's family. 
Joe Mettle's medley of worship songs, including Tim Godfrey's 'Nara' and his hit Onwanwani, also brought tears in those at the event.
Eddie Nartey grieves
Actor Eddie Nartey's wife of two years, Vida Obenewah Nartey, passed away in January.
Mr Nartey confirmed the news of his wife's demise on Instagram to his fans and followers.
Ernest Asuzu
In January, Nollywood actor, Ernest Asuzu, died at 37. Recounting fond memories of his deceased colleague actor, Emeka Ike, he said that Ernest was a good man who feared and respected God aside from the entertainment.
"You're a good man Ernest. You feared God."
Dan Nkoloagu – Rest in peace
Veteran Nollywood actor, Dan Nkoloagu died following health complications. He was 84 years old.
According to his son, Dan Nkoloagu Jr, who broke the news on his Facebook page, the actor passed away on January 22.
February
The couple with the biggest wedding in 2020 brought the biggest gift to 2021.
Kennedy Osei, first son of business mogul, Osei Kwame Despite, and his wife, Tracy welcomed twins.
In an Instagram post, the young couple presented their twin girls to Mr Kwame Despite as he celebrates his birthday on Tuesday.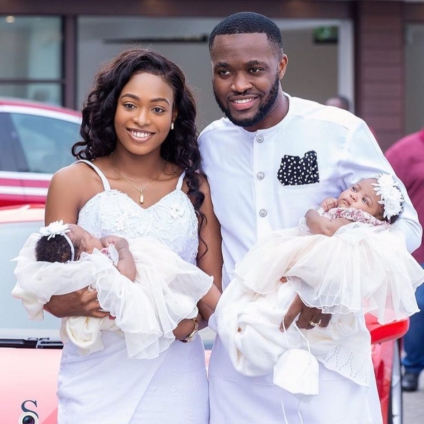 Bisa Kdei made history
Bisa Kdei's "Asew" remix soundtrack in the American Christmas film "Jingle Jangle" was nominated for the 2021 National Association for the Advancement of Colored People (NACCP) Awards.
The multiple award-winning Ghanaian artiste was nominated in Outstanding Soundtrack/Compilation Album on Jingle Jangle: A Christmas Journey together with various artists.
VGMA lifts Shatta Wale and Stonebwoy's ban
The Vodafone Ghana Music Awards (VGMA) board internally agreed to lift its ban on Shatta Wale and Stonebwoy ahead of the 2021 edition of the show. 
Speaking on Hitz FM, Robert Klah, Head of Public Events and PRO at Charterhouse, said a conversation on when to lift the ban ensued at the board's inaugural meeting.
"It was in principle decided that the ban should be lifted," Robert Klah told Andy Dosty, host of the show. However, despite lifting the ban, the two did not submit their works for nominations.
Funny Face arrested 
On Monday, February 8, 2021, Comedian Funny Face was arrested by the police in Kasoa for an unlawful discharge of firearms at a drinking pub.
Speaking to JoyNews' Richard Kojo Nyarko, the Central Regional Police PRO, DSP Irene Serwaa Oppong, had said someone had reported Funny Face for causing a disturbance in a bar.
Investigations reveal the actor had gone to the bar, where a misunderstanding ensued between him and the owner. Although the two were separated, Funny Face went home, returned with a gun and fired warning shots.
A journey to the psychiatric hospital
Funny Face was arraigned before court days later, and the judge ordered him to be sent to the psychiatric hospital for two weeks.
The Ofaakor Circuit Court presided by Ebenezer Osei Darko made the order after the judge noticed some incoherence in Funny Face's account of events thus asked the actor if he was sound of mind.
The judge said Funny Face might be having a mental crisis and possibly going through depression.
With the help of fellow actor Kwaku Manu, Funny Face reunited with his daughters and their mother, only known as Vanessa, after they paid him a visit at the hospital.
Kojo Dadson dies
Home Sweet Home star Emmanuel Kojo Dadson reportedly died at the Korle Bu Teaching Hospital in February, two weeks after his wife's death.
According to reports, he died at the capital's biggest referral hospital while receiving treatment for dialysis for kidney problems. The versatile actor has been in a wheelchair for the last eight years as he recovered from a stroke.
Yaw Berk apologises
Musician Yaw berk went viral after he was seen apologising to his former label boss on his knees.
The encounter mediated by Rev. Danso Abbeam in Kasoa saw Kaywa accept the apology asking that whatever misunderstanding occurred should not happen again.
…and Nollywood lost another actor 
In February, Veteran Nollywood actor Victor Decker was found dead at his apartment in Abuja.
Neighbours of the 72-year-old found his body on Monday evening after they noticed he had not been out for days.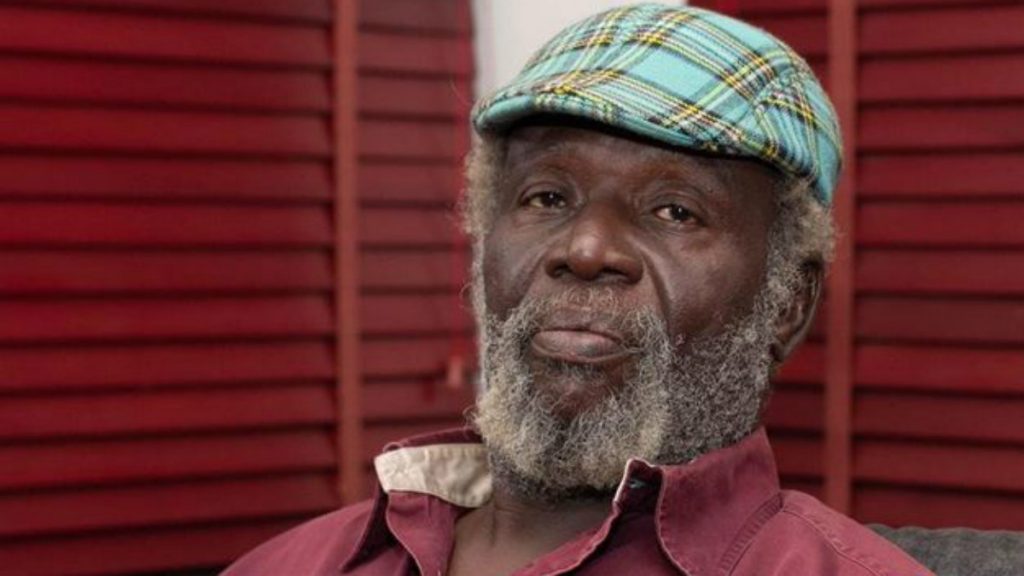 Times100 Next has a Ghanaian on the list
Award-winning portraiture and figurative painter, Amoako Boafo made it into the 2021 Time100 Next list. The list highlighted the works of the 37-year-old and the impact it has had on black identity and the African diaspora.
"Amid Boafo's meteoric rise, his work has often been "flipped," or resold quickly at a much higher price—a practice that can prevent artists from profiting from the huge windfalls of secondary sales," the Time100 Next article reads.
Ebony still lives
To commemorate singer Ebony Reigns' third year since she passed, her record label, RuffTown Records, released one of her pre-recorded songs. The song titled 'John 8:7' features Wendy Shay, her label mate.
Ebony, in the song, talks about paying no attention to her haters and enemies. The Dancehall artiste said people criticised her music, outfits, personal life, among others.
March
UK meets trap on 'Sore' remix
Yaw Tog enlisted UK musician Stormzy and Kwesi Arthur to remix his hit song 'Sore'.
The song was a hit, with many with a few criticising it. Regardless many Ghanaians were still in love with the songs.
Grammy in Africa's ball court
Nigeria Afrobeats stars Burna Boy, and Wizkid won awards at the 2021 Grammys in March.
Burna Boy won the Best Global Music Album category, while Wizkid won the Best Music Video for his song with Beyoncé, Brown Skin Girl, from Lion King: The Gift album.
Burna Boy also scored his first Grammy performance.
Forever was everywhere
Gyakie released her song 'Forever' off her SEED EP to applause. This later helped garner attention for the song and spun a remix.
The remix to the chart-topping song 'Forever' featured Nigeria's breakthrough artiste Omah Lay.
Eno Barony is Rapper of the Year
For the first time in Ghana's history, a female artiste, Eno Barony, won the coveted Rapper of the Year award at the 3Music Awards 2021. She beat competition from Joey B, Medikal, M.anifest, Sarkodie, Strongman, Amerado, and Ko-Jo Cue.
Then at the 2021 VGMA, she made history again, winning the best rap performance award.
Ebo Barony beat tough competition from Sarkodie, Joey B, Medikal, Strongman and Amerado to secure the spot. Although all the artistes in the category were nominated for their phenomenal performances on some of the year's big songs, Eno won with her hit single 'God is a Woman'.
Pete Edochie shocked fans with his views on domestic violence 
Veteran Nollywood actor, Pete Edochie, blamed feminism for the increasing cases of domestic violence and women suffering in marriage.
Speaking to BBC Igbo, the actor said women are at fault in most domestic violence incidents. However, he lamented that today's women do not know how to do basic things, which women ought to do to keep their husbands.
"Feminism isn't something black people are known for. Once a woman leaves her parents to meet her husband and take his surname, she is to be submissive to him. If she wasn't married, she can do whatever she wants."
Chioma and Davido hit the rocks
After many rumours, the pictures of Davido getting cosy with an IG model seemingly cemented things for many that the relationship between Davio and Chioma was over.
While some accused Davido of cheating and humiliating Chioma despite assuring her of his love, others believed that Davido made no vows, therefore, not obligated to stay loyal to one woman.
The wedding of soldiers
Ghanaians were anticipating the biggest violence of the year when an ex-girlfriend of a soldier vowed to storm his wedding in March.
A Facebook user named "Comfort Bliss Gh", who according to her narration, is the ex of one Richard Agu, said she was unfairly treated during her relationship and was dumped for one Benedicta.
"Agu Richard made me use all my life savings on him because he had no one to help him because I was the girlfriend. He asked me to help him enter the Army so when he starts working; he can take care of me through school as he promised," she narrated.
Comfort further stated that she does not have an issue with Richard finding another woman; however, she will be present at the wedding ceremony to take back the money she invested during her relationship with him.
As a safety precaution, more soldiers than expected graced the event to halt any mishap should the jilted girlfriend truly make an appearance. This, however, did not stop social media from going wild with opinions and memes.
April
The crown isn't mine, but it isn't yours either.
Twitter worldwide had a field day when controversy erupted at the Mrs Sri Lanka beauty pageant. A former titleholder took the crown off the winner's head and falsely claimed she was a divorcee and therefore ineligible to take part.
Pushpika De Silva was named the competition winner to applause and cheers from spectators in the Sri Lankan capital Colombo. Video footage from the event showed organisers placing the winners' sash around De Silva and the crown on her head.
Shortly afterwards, the pageant's 2019 winner and Mrs World 2020, Caroline Jurie, took to the stage and picked up the microphone. "I have a small request," she said. "As for the Mrs World Inc., there's a rule that you'll have to be married, and not divorced. So, I'm taking my first step, saying that the crown goes to the first runner-up."
Jurie then turned to a stunned De Silva, forcefully took the crown off her head and placed it on the first runner-up, who broke into tears and thanked the judges as De Silva walked away.
Hip-hop lost a legend
Rapper DMX, in April 2021, died at the age of 50. The influential rapper's death was announced on Friday (April 9) after reportedly suffering an overdose that resulted in a heart attack on April 2, XXL has confirmed.
X's team shared a statement with XXL this morning: "We are deeply saddened to announce today that our loved one, DMX, birth name of Earl Simmons, passed away at 50-years-old at White Plains Hospital with his family by his side after being placed on life support for the past few days. Earl was a warrior who fought till the very end. He loved his family with all of his heart, and we cherish the times we spent with him.
Nigeria also lost a veteran 
Veteran Nigerian actor, Bruno Iwuoha, died in April after a prolonged battle with diabetes. He was 68 years old.
Iwuoha died in the early hours of Saturday, April 10, at the National Hospital Abuja.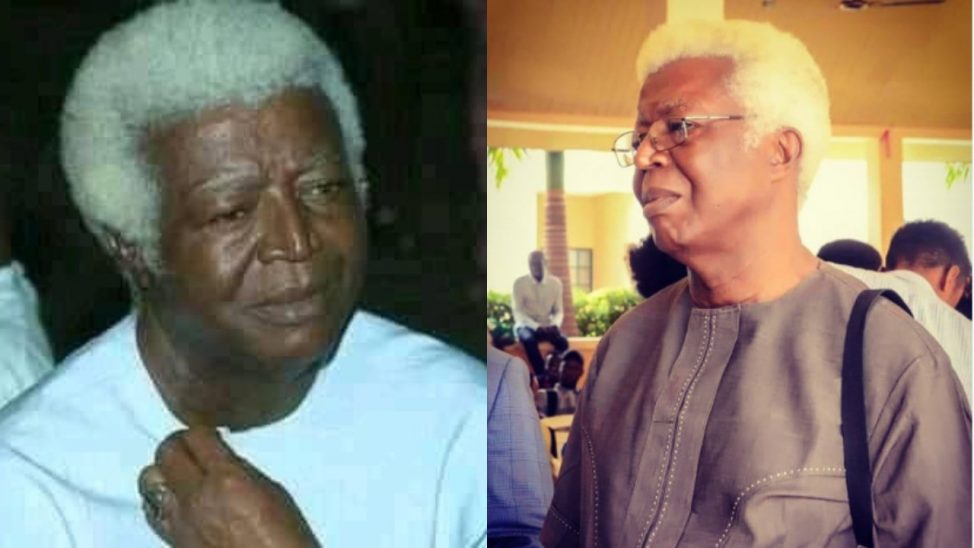 The Don Jazzy confession that shocked fans
Musician Don Jazzy revealed that he was once married at the age of 20 and divorced at 22.
In an Instagram post, he stated that the marriage failed after just two years because he was young and solely focused on his music.
The Mavin Records boss who posted some pictures from the wedding said that although he likes to keep his private life out of the public eye, he wanted to open up on this "big" side of his life after skipping it during an interview.
AKA lost his fiance
Fiancee of South African rapper AKA, Anele 'Nelli' Tembe, was reported to have passed away after she allegedly fell from the 10th floor of a hotel, identified as Pepper Club Hotel, in Cape Town.
According to the hotel manager, Efi Ella, the incident occurred around 7:30 am on Sunday, April 11.
Anele 'Nelli' Tembe, the late 22 years old, was engaged to rapper AKA in February 2021. Rapper AKA, born Kiernan Jarryd Forbes, had shared a picture with a ring on Miss Thembi's on February 21 to announce the news.
The pair had been going out for over a year. Although Nelli Tembe's Instagram handle is private, fiancé AKA often posted her on his Instagram handle. She was also a model for his clothing line 'Bhovamania.'
Akuapem Poloo and jail wahala 
Actress Rosemond Brown, popularly known as Akuapem Poloo, was convicted by the Accra Circuit Court after she was sued for posting naked pictures with her son.
The pleaded guilty to charges of publication of obscene materials, engaging in domestic violence, namely conduct that in any way undermines another person's privacy or integrity and engaging in domestic violence, namely conduct that in any way detracts or is likely to detract from another person's dignity and worth as a human being.
After the conviction, actors, musicians, and social media influencers started a campaign for the actress to be freed or given a less harsh punishment. However, she was later handed a 90 days jail sentence by the court. 
Her lawyers, in an appeal, urged the High Court to set aside the 90-day jail term handed her and instead impose a fine. They insisted the Accra Circuit Court ought to have considered her guilty plea and imposed a fine instead of a custodial sentence.
Her appeal was dismissed on December 1, and she was ordered to go through with her initial sentencing. 
However, on December 16, reports indicated that her sentence had been reversed. The actress was to pay a fine of GH¢12,000 instead of serving her jail term at the Nsawam Prison.
DKB also sues Akuapem Poloo
While she was fighting in court, DKB, following the release of Akuapem Poloo on bail, decided to file a defamation suit against the actress.
This was after she claimed she had been receiving calls with many people calling her ungrateful for failing to show appreciation after donating some monies to her mother and son via comedian DKB.
Taking to his Instagram page, the comedian posted a picture of his police statement and vowed to drag the issue till his name is cleared off the allegation. He also expressed his regret in helping Akuapem Poloo while in jail.
However, days later, DKB dropped all legal actions he initiated against the embattled actress for accusing him of hoarding a GH¢4,000.00 donation.
Taking to social media,  the comedian revealed that the intervention of some personalities, including United Kingdom-based gospel musician Dr Sonnie Badu and the mother of the Ghanaian actress, led to his decision to retract the lawsuit.
Mark Okraku Mantey is Deputy Tourism, Arts, and Culture Minister 
Mark Okraku Mantey in April was appointed as the Deputy Minister-designate for Tourism, Arts and Culture and subsequently approved for the role,
His appointment came after months of rumours and mixed reactions from persons in the industry about his possible selection.
T Pain apologises
Musician T Pain made headlines worldwide when he apologised to all the celebrities who tried to reach out to him via Instagram but did not receive any response.
Taking to Instagram, the 'Buy You A Drink' hitmaker stated that he did not realise he was getting the messages. He explained that he only just discovered the notes adding it was "today years old" when he learned that Instagram has a separate space for message requests.
He apologised to Medikal and Wendy Shay, who had both reached out to him while in the states. Others in the star-studded list included Diplo, Fergie, Voila Davis, Keri Hilson and a host of stars.
May
Shirley Frimpong Manso made big moves
Sparrow Pictures, the Ghanaian film house headed by award-winning producer Shirley Frimpong Manso, has reconstructed its streaming service Sparrow Station to ensure a wider reach of its content.
The company has released its Sparrow Station apps home to the numerous original African content produced and released by Sparrow Pictures and its Partners. It is available on iOS, AppleTV, Android, Roku, and Amazon FireTV. Movies are also available to stream at www.sparrowstation.com
Struggling with masturbation? You're not alone.
Playwright and life coach, Ebo Whyte, raised eyebrows when he revealed how he overcame an addiction to masturbation in his 20s.
In a Facebook post advising young people on beating the addiction, he shared how confessing to his fellow church leaders at church led to rebuke and stigmatisation.
However, "Interestingly, after the meeting, some of the other leaders came to confess to me that they were guilty of the same," he added.
GHAMRO won a case for right owners
In May, the Ghana Music Rights Organisation (GHAMRO) won the copyright infringement case it filed against three of Ghana's telecommunication giants, MTN, Vodafone, and AirtelTigo.
The four-year-old case saw GHAMRO request damages for breach of copyright and the payment of 10% copyright royalties on revenue generated from music downloads and uses/performance since 2012. 
The court granted GHAMRO the reliefs sought, including a collection of royalties from the Telcos for public performances. The court presided over by Justice Jennifer Abena Dadzie ordered the Telcos to account for revenue generated from the public performances.
The companies were again asked to pay 10% copyright royalties on revenues generated from the use of works belonging to GHAMRO members and obtain licenses for the use and performance.
Age is literally just a number – maybe, maybe not
Naomi Campbell became a mom at 50. The supermodel surprise-announced on Instagram in May that she welcomed her first child, a baby girl.
"A beautiful little blessing has chosen me to be her mother, so honoured to have this gentle soul in my life there are no words to describe the lifelong bond that I now share with you, my angel. There is no greater love," she captioned a photo of herself holding the newborn's feet.
It is unclear who the father is and whether Campbell gave birth or hired a surrogate.
Campbell has previously been open about her desire to become a parent, including in 2018 when she told Vogue Arabia about how kids bring out a bubbly side of herself.
"I'd love to have kids. I don't discount anything in life. I love kids and always will," she told the magazine at the time. "When I'm around children, I become a child myself. That's the little girl I don't ever want to lose."
Marriage is a beautiful thing
On Saturday, May 22, Hitz FM's Dr Poundz got married to his fiancée in a colourful ceremony at Cape Coast in the Central Region.
The radio show host, born Maximus Mensah, was accompanied by a huge entourage, which included actors Prince David Osei, Kalybos, Bismark the Joke, among others.
Also present were Dr Poundz's colleagues from The Multimedia Group Jerry Justice, Akumaa Mama Zimbi, Merqury Quaye, Papa Bills, Tima Kumkum, Mic Gizo, DJ Yawuzy, KMJ, JoyNews Interactive host Mapitso Sebidi, host of Geek Squad Kobby Spiky, among others.
Rihanna is taken – crushes move aside
A$AP Rocky was not holding back about his feelings for Rihanna when he announced that he was in a relationship with a singer in May. The news devastated many who had been in love with Rihanna.
The 32-year-old rapper opened up about his relationship for the first time in GQ magazine after being romantically connected with the 33-year-old R&B singer since last year.
Rocky, whose real name is Rakim Athelaston Mayers, calls Rihanna "the love of my life" and "my lady." "[Relationships are] so much better when you got the One," he tells the magazine. "She amounts to probably, like, a million of the other ones."
June
Shatta Wale entered June dodging allegations
Shortly after his break from social media and the music scene, Shatta Wale had to face off with some road contractors after he was accused of assaulting one of them.
The engineer on site, Kennedy Acquah, says the artiste was angry that they did not extend the work on the road to his office. But Shatta Wale came to the site and some men to confront them. "I went close to tell him I was in charge, and before I could explain anything, one of the guys with him just slapped me, and he was looking on."
But, Speaking on Hitz FM, the SM President said he only sent his boys to tell the construction workers to stop work for further discussion and agreement on fixing the road that led to his office.
Shata Wale said the workers had blocked the main road to his office without giving him any notice. The 'Freedom' singer said although he instructed his boys to approach the workers, he did not order anyone to assault them.
He later apologised to the road contractors. In a video, the artiste said it is unfortunate his quest to get a good road facility for his community ended on such a sour note.
Baby news from Patapaa's camp
Patapaa confirmed in June that he and his wife, Liha Miller, were expecting their first child. In an interview on Accra-based TV3, he revealed that they are expecting a baby boy.
Patapaa said he would like to give his son a local name explaining that people with Ghanaian names have made the nation proud.
Song theft allegation haunts Kuami Eugene
A Ghana-based Nigerian artiste, Oduma Essan, reportedly sued Kuami Eugene for allegedly plagiarising his song. According to reports, the singer is claiming part ownership of Kuami Eugene's 'Show Body' hit song featuring Falz featured on the Son of Africa Album released on October 9.
Essan, who is demanding ¢120,000 in damages, told the court that, among other things, Kuami Eugene plagiarised his title and also used lyrics similar to his. In addition, Oduma Essan stated that he wore a lion-inspired outfit in his video and tagged himself the Lion of Africa. 
Meanwhile, Kuami Eugene, he added, also wore a similar outfit, tagging himself the Son of Africa. However, after some fans listened to the music, they claimed the artists wanted to live off Eugene's fame.
Reacting to the suit, CEO of Lynx Entertainment, Richie Mensah, stated that the management is not perturbed by the lawsuit brought against his artiste. He explained that if a person listens to the two songs, the only similarity they will identify is their title.
Richie also blamed the media for the suit stating that the media is fond of publishing stories about the young artiste from people seeking attention.
Cinemas took a really big hit
After a year of closure, Silverbird Cinemas told their story of loss and distress in a pandemic world. Silverbird Cinemas Ghana bore the brunt due to closure for over 15 months, millions lost, and over 300 staff laid off.
Cinemas were opened later in the month with a set of guidelines from the Ghana Tourism authority to ensure the spread of Covid-19 was minimised.
A dance champion died
Former National Dance Champion, Alex Ofori reportedly passed away in June. It is, however, unknown when he died or what he died from.
Alex Ofori shot to fame after winning the Ghana National Dance competition in 1988. He later represented Ghana at the World Dance Championship series at the London Hippodrome. He was also a choreographer and a fashion model.
Paying tribute to him in a Facebook post, veteran broadcaster KKD stated that the dance champion brought so much excitement and joy to Ghanaians wherever he got on a stage or dance floor.
…another talent was lost
Kumawood actor, Agya Manu was announced dead in June. This followed his battle with an undisclosed illness.
Confirming the death, actress Akyere Bruwaa posted a condolence message on her verified Instagram page. In addition, the Kumawood actress posted a short scene from a movie in which she starred alongside her deceased colleague.
Kofi Kinaata made history
Sensational artiste Kofi Kinaata for the fourth time, won the Songwriter of the Year award at the Vodafone Ghana Music Awards (VGMA) ceremony.
He won the award with his song 'Behind The Scenes'. To win the award, Kofi Kinaata beat competition from Diana Hamilton, Adina, Joe Mettle, Abiana and Epixode.
He is the first artiste to win the award four times. Kofi Kinaata first took home the award in 2016, with the song Susuka released in October 2015. He won the award again the following year, 2017, with Confession. 
Three years later, in 2020, Kofi Kinaata won the Songwriter of the Year award, once again with his song Things Fall Apart.
Hamilton won hearts and made a mark
Gospel Artiste, Diana Hamilton has been crowned 'Artiste of the Year' at the 2021 Vodafone Ghana Music Awards (VGMA).
Diana Hamilton is the first female Gospel Artiste to take home the ultimate award in VGMA's 22-year history.
KiDi will be back in 2022, hopefully
Before the artiste of the Year announcement, KiDi had been on stage a few minutes after his fourth award. While taking the award, he said, "I'll be back", referring to coming back for the final and biggest award of the night.
Taking the stage, Mark Okraku Mantey teased the audience before announcing the winner; he even called for KiDi, asking if he was ready to come for the award. Then, he announced Diana as the winner.
Some social media users had a field day with the incident, with some creating memes from the moment. KiDi later said he was confident the award would be his, especially considering his work.
Eiiiiiii bra KiDi. This I'll be back diɛ 😂 😂 😂 😂 😂 😂 pic.twitter.com/NdXISwsk68

— 🦅ɛaɢʟɛ's Heri➕age🇬🇭🇨🇮 (@eagleyez7) June 27, 2021
Kidi in Public : I will be back
Kidi alone in bedroom: pic.twitter.com/EDwJFULBf2

— Rev. Dr. Kwaku Yeboah Esq (@Kwaku_Specter) June 27, 2021
The growth of the music industry
This article dubbed 'Moving from the 'Ss' and 'Ks' to everyone: Time to expand Ghana's music industry?' captured the growth of the Ghanaian music industry.
.