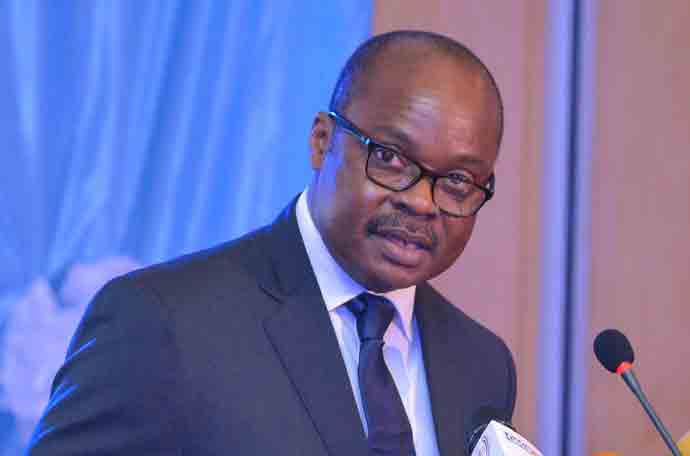 Governor of BoG, Dr. Ernest Addison
The government plans to develop the industrial sector through its flagship programme One District One Factory may suffer major setbacks as the Bank of Ghana has written to some banks in the country not to accept guarantees issued by the Ghana Exim Bank (GEXIM) to support businesses to enable them access credit facilities from financial institutions.
According to the Central Bank, with the exception of guarantees from Multilateral Development Banks (MDBs), all other guarantees do not qualify as eligible collateral under Section 62(9) of Act 930.
The issuance of guarantees by the Ghana Exim Bank is similar to what all other Exim Banks and Export Credit Agencies (ECAs), do to either facilitate access to credit by businesses from commercial banks or safeguard repayment for a business transaction.
Sources say such a directive to the banks is likely to affect the credibility of Ghana Exim Bank both locally and internationally. Its full effect would be felt by the various SMEs who do not have adequate collateral, to access credit from commercial banks worldwide.
It is very important to note that every guarantee institution is accepted based on credibility of its Guarantee Certificate, therefore anything that seeks to tarnish the credibility of such institutions is to be avoided.
The objective of Ghana Exim Act, Act 911 is to support and develop directly and indirectly trade between Ghana and other countries, and also build Ghana's capacity and competitiveness in the international market-place.
Ghana Exim Bank support businesses directly through credit facilities, and indirectly through Guarantees and other financial instruments, business advisory services, research, etc.
The companies that Ghana Exim Bank has referred to banks for credit facilities to be backed by Ghana Exim Bank's guarantee, include those who have already benefited from the Exim Bank's guarantee cover which would not be affected in anyway by the directives from Bank of Ghana because of the credibility of the Guarantee Certificates.  
Ghana Exim Banks works with all commercial banks in Ghana, although has signed a Memorandum of Understanding with 10 selected banks, as well as international banks and financial institutions. Ghana Exim Bank is currently on a guarantee application in favour of an international financial institution, and therefore any pronouncement that seeks to attack the credibility and validity of the bank's Guarantee Certificate presents a dire consequence for SMEs trying to access credit facilities from such institutions using guarantees from Ghana Exim Bank.
For the year 2022, the bank has worked on 17 guarantees to the tuned of ¢347.4 million. This resulted in ¢468million credit facilities from commercial banks to businesses.
Ghana Exim Bank is a member of an international body including Berne Union which has membership of Exim Banks, Export Credit Agencies and the Investment Insurance Industry. They include credible institutions like Export-Import Bank of the United States, The Arab Investment & Export Credit Guarantee Corporation, Export Development Canada, Denmark's Export Credit Agency, The Saudi Export-Import Bank, China Export & Credit Insurance Corporation (Sinosure) and UK Export Finance (Export Credit Guarantees Department).
Ghana Exim Bank was a creation by the Parliament of Ghana through the enactment of Act 911. It was established through the merger of Export Development and Agricultural Investment Fund (EDAIF), Eximguaranty Ghana Company Limited (EGCL) and Export Finance Company Limited (EFC).
Before becoming part of Ghana Exim Bank, EGCL has since 1994, been issuing guarantees to commercial banks in Ghana for the purpose of serving as collateral to enable SMEs have access to credit from these banks.
In creating Ghana Exim Bank, EGCL became a critical arm of the bank to underwrite credit facilities from banks through the issuance of Guarantees. Exim Banks all over the world, as part of their mandate, underwrite loans from banks through the issuance of Guarantees.
DISCLAIMER: The Views, Comments, Opinions, Contributions and Statements made by Readers and Contributors on this platform do not necessarily represent the views or policy of Multimedia Group Limited.