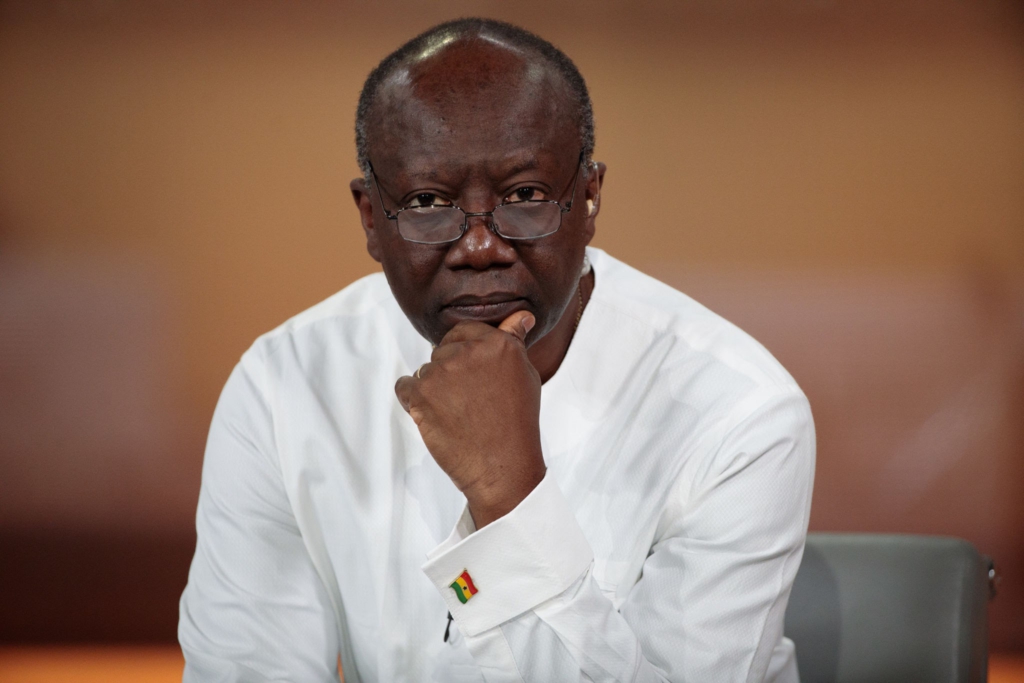 Ken Ofori-Atta, Ghana's finance minister, pauses during a Bloomberg Television interview in London, U.K., on Wednesday, March 20, 2019. Ghana, which this week raised $3 billion through debt sales and was contemplating 100-year bonds, will work with the market to determine the tenure of its next issuance, Ofori-Atta said. Photographer: Simon Dawson/Bloomberg via Getty Images
Ghana's public debt went up by about ¢6.3 billion between April and June 2023 to reach ¢575.5 billion in June 2023, data from the Bank of Ghana has revealed.
This is equivalent to $52.3 billion, approximately 71.9% of Gross Domestic Product (GDP).
The marginal increase in the total debt of the country was due to the slight depreciation of the cedi to the dollar during the period.
According to the September 2023 Summary of Economic and Financial Data, the debt stock stood at ¢473.2 billion in December 2022, approximately 77.5% of GDP. It then went up to ¢547.8 billion ($50.7 billion) at the end of January 2023 and subsequently to ¢564.1 billion ($51.2 billion) and ¢569.5 billion ($51.7 billion) in February 2023 and March 2023 respectively.
It however fell to ¢569.2 billion ($51.9 billion) in April 2023, but later rose to ¢573.5 billion ($52.2 billion) in May 2023 and then to ¢575.5 billion ($52.3 billion) in June 2023.
The data from the Central Bank also disclosed that the external component of the total public debt stood at $29.9 billion (¢328.6 billion) in June 2023, higher than the $29.3 billion (¢321.3 billion) in April 2023.
In terms of the domestic debt, it stood at ¢246.9 billion at the end of June 2023, about 30.8% of GDP. This is compared with ¢247.9 billion in April 2023, approximately 30.9% of GDP.
The report again failed to provide data for the financial sector resolution debt and other liabilities such as the energy sector debt.
Fiscal deficit to GDP stood at 0.8% in March 2023
The government's fiscal deficit to GDP stood at 1.3% in June 2023, as against 8.3% of GDP in December 2022.
The primary balance, however, stood at a surplus of 0.6% of GDP in June 2023
Ghana suspended payment of loans to its external creditors in December 2022 following the economic challenge the country faced.
It subsequently restructured some domestic debt, beginning February 2023. The Domestic Debt Exchange Programme is expected to be concluded soon.
The country is also expected to reach an agreement with its external creditors before the end of the year to restructure its external debt.
DISCLAIMER: The Views, Comments, Opinions, Contributions and Statements made by Readers and Contributors on this platform do not necessarily represent the views or policy of Multimedia Group Limited.